March 31, 2017
Greetings,
Cat's Eye Jade
Last year's harvest season was exciting to say the least. Not only did we pinpoint our first hardrock outcrop of Evergreen Jade™, but we also discovered an outcrop of a chatoyant variety of nephrite commonly known as "cat's eye jade." By using a combination of hand extraction techniques including hammers and chisels, wrecking bars, and expanding concrete poured into hand-held core drill holes, we were able to extract a bulk sample of this unique material of over 1,300 lbs.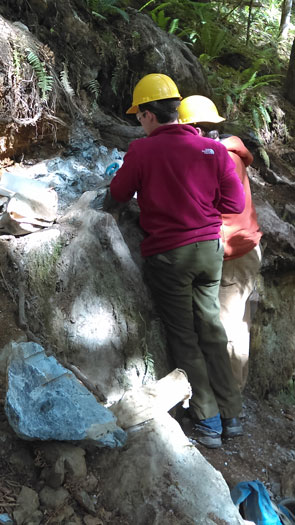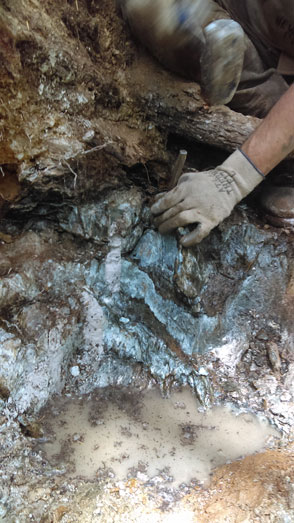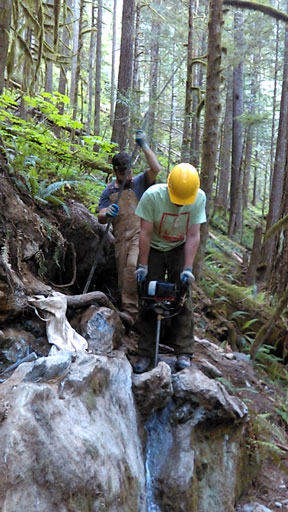 This highly prized material has historically been uncommon on the world market when it can be found at all, and thus very few people have been able to develop the expertise necessary to craft this material into properly oriented cat's eye stones. That may all be changing with the discovery of this deposit. As we explore more and more of the fault that produces both Evergreen Jade™ and this cat's eye jade, we're finding that a much larger proportion than we had initially expected has formed up in chatoyant "seeds." Even the nearby diopside has formed into chatoyant crystals, resulting in an unusual schillerous chromium diopside; it may just be that the entire fault has a tendency to produce chatoyant materials.
Cabochon Auction
We've cut a number of sample cabochons of this material and are starting in on a small production run of these stones. Since the market for this material has been so inconsistent, with finished stones ranging in price from $10-$1,800/ct., we've decided to turn to you, our mailing list subscribers, to get a starting point on the value of these beautiful stones. We have listed, below, three cat's eye jade cabochons from our mines in Washington. We will be conducting a sealed-bid auction on these three stones ending at 11:59PM on April 28th, so if you're interested, simply reply to this email with the stone number and your bid amount. Once bidding has closed we will send the highest bidder on each stone payment information and arrange for shipping once payment is remitted. One further note: in an effort to get the best pricing information, we'll be conducting this auction as a "second price" auction. This means that, if you win the auction, you will only pay the amount of the second-highest bid, regardless of the value of your bid.

CatsEye0006
Material: Cat's Eye Evergreen Jade™ (Cat's Eye Nephrite)
Stone Dimensions: 14mm x 10mm (8mm Thick)
Stone Weight: 9.66 ct.
Treatment: None
Product Number: CatsEyeCab0006
(Video Link)

CatsEye0009
Material: Cat's Eye Evergreen Jade™ (Cat's Eye Nephrite)
Stone Dimensions: 18mm x 12mm (9mm Thick)
Stone Weight: 15.46 ct.
Treatment: None
Product Number: CatsEyeCab0009
(Video Link)

CatsEye0010
Material: Cat's Eye Evergreen Jade™ (Cat's Eye Nephrite)
Stone Dimensions: 20mm x 14mm (8mm Thick)
Stone Weight: 18.07 ct.
Treatment: None
Product Number: CatsEyeCab0010
(Video Link)

Each of these cabochons is also listed in our Etsy store at what we believe to be a reasonable price given our market research thus far. If any of these three cabochons is purchased from the Etsy store prior to the auction's end date, we will immediately notify all recipients of this email and end the auction for that item.

We'll be working to bring more of this material to market as we start this year's field season in the coming months, so keep an eye out for more information in our newsletters, on our website at washingtonjade.com, and on our Facebook page, Washington Jade.

---
Dragon's Eye™
You've most likely heard of "Tiger's Eye." You may even have encountered its blue cousin, "Hawk's Eye." Now, here at Washington Jade, we've unearthed a green material worthy of the name "Dragon's Eye™." This material is composed of aligned bands of chatoyant actinolite, tremolite, and/or nephrite with varying orientation. The result is a green variety of Tiger's Eye that makes a beautiful lapidary material.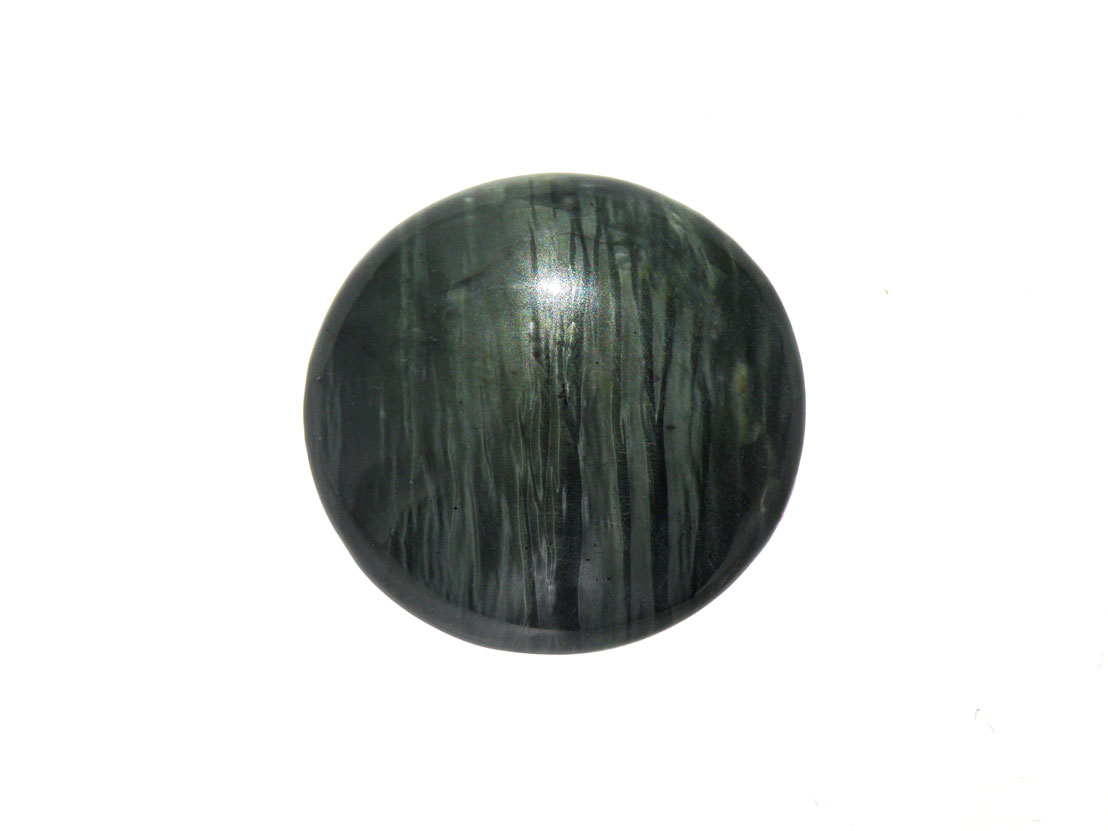 This material, far from being a rare variety of our Cat's Eye Evergreen Jade™ as we had initially believed, seems to form in thick bands such that we can make it available in wholesale quantities. Send inquiries to sales@washingtonjade.com.

---
Local Events
Maplewood Spring Rock and Mineral Sale
We have two shows coming up in April of 2017. First off, we'll be conducting our Spring Clearance sale at the Maplewood Rock & Gem Club's Spring Rock and Mineral Sale on the weekend of April 8th-9th. If you've been interested in trying your hand at carving jade, but you haven't been willing or able to make the investment in pricey material, we'll be selling out much of our "river-run" stock, material that is good carving rough but is either slightly altered in color or consists of seeds of nephrite in a serpentine matrix, at "rock bottom" prices. We'll have a full selection of our highest-quality material available as well, so regardless of your needs, come on down and pay us a visit at the show. The Maplewood Rock & Gem Club is located at 8802 196th St. SW, Edmonds, WA, and show times are Saturday, April 8th, 9AM-5PM and Sunday, April 9th, 10AM-5PM.

Skulpt! Pop-Up Stone Sculpture Gallery
In addition, Washington Jade's own Nathaniel Cook will have several of his Washington jade sculptures on display at the Skulpt! Pop-Up Stone Sculpture Gallery all through the month of April in Oak Harbor, WA. The Skulpt! gallery will be showcasing work by a number of artists from the Northwest Stone Sculptors Association (NWSSA) April 1st-30th, 11AM-7PM every day with public stone carving demonstrations and a reception every Saturday. Nathaniel will be demonstrating jade carving on one of these Saturdays, so keep an eye on our Facebook page for details. The gallery will be located at 721 SE Pioneer Way in historic downtown Oak Harbor, WA.

---

As always, keep up to date on our ongoing exploration and new materials in our newsletters, on our website at washingtonjade.com, and on our Facebook page, Washington Jade.

All the Best,
Washington Jade